We've had the brilliantly named Who Gives a Crap toilet paper on our Innovation Spotlight radar for a while now, but little did we know the hot topic that TP was about to become...
With those precious paper squares becoming worth their weight in flour (yes, we're out of that too…), there's been talk of deliveries being stolen, price gouging from unscrupulous toilet paper traders and even the Venezuelan government offering conspiracy theories.
Before all this though, there were three guys with an idea: to give everyone in the world access to a toilet, helping to prevent the deaths of 289,000 children who die each year due to diarrhoeal diseases caused by poor sanitation. And to do this?
Well, they'd sell toilet paper, of course.
They initially launched with a crowdfunding campaign, where they raised over $66,000 to produce this socially-aware TP. They delivered their first product in March 2013, and have been donating a full 50% of their profit to sanitation projects ever since. To date, that's meant $2.6AUD/£1.5million, given to charities like WaterAid, Africa's Sanenergy and Kenya's SHOFCO.
So they're good. But are they environmentally sustainable?
Oh yes.
Each day around the world, 27,000 trees are cut down, destined to be remade into toilet paper, largely because the three leading toilet paper manufacturers use no recycled paper when producing their rolls.
Who Gives a Crap toilet paper is made of 100% recycled paper, so no virgin pines are harmed in the production. By using paper already in circulation, they preserve the natural resources which can then play their role in the carbon cycle, as well reduce the amount of CO2 emissions their paper is responsible for, thanks to avoiding the emission-heavy deforestation process.
Unfortunately, if you're a sensitive type you might notice that it's the wood fibres that provide your tush with that soft paper feel, which is why Who Gives a Crap also offer a premium soft paper made from bamboo. Bamboo is something of a wonder plant, growing up to 39 inches a day, making it one of the most renewable plants on the planet. It produces more fibre per meter square than trees and turns 30 to 35% more carbon dioxide into oxygen than them as well. The paper it produces is odour-resistant, antifungal, antibacterial, hypoallergenic and 100% biodegradable.
Like we said: a wonder plant.
But the eco credentials don't stop at the material used. Who Gives A Crap has made their rolls double length, as well as reduced the amount of inner and outer packaging, reducing the overall space that the sheets take up. With customers only able to buy boxes of 48 double length rolls, the transportation of the product to your bathroom is far more efficient than if you were to buy the paper 9 or 12 rolls at a time.
The way in which a company packs their product can be incredibly impactful, as we saw with the boxed wine company that reduced their carbon footprint by 80%, simply by transporting flat cardboard packaging and filling them with wine on-site, compared to shipping pre-filled bottles of wine.
Who Gives a Crap is another company willing to be transparent about their emissions, particularly with regard to the fact that they manufacture their product and ship it from China. Could this possibly be the least environmentally harmful way?
The company commissioned a study into the different options and their relative impact, examining producing the product in their home country of Australia and transporting it via road or rail, versus producing it in China and transporting it by sea to distribution centres. They found that the key was to minimise road transportation, since sea miles are responsible for 6-10 times less emissions, hence why they ship directly into the major ports and distribute from there. The other benefit of producing the product in China is proximity to the source material - recycled paper and bamboo - resulting in still more saved emissions.
(They've yet to undertake the same study in their more recent markets - the UK and US - but say it's on the roadmap.)
In another effort to head off potential critics, they've addressed the question as to whether it's eco-friendly to wrap each roll in such pretty paper - surely something that looks that good can't be good for the environment as well?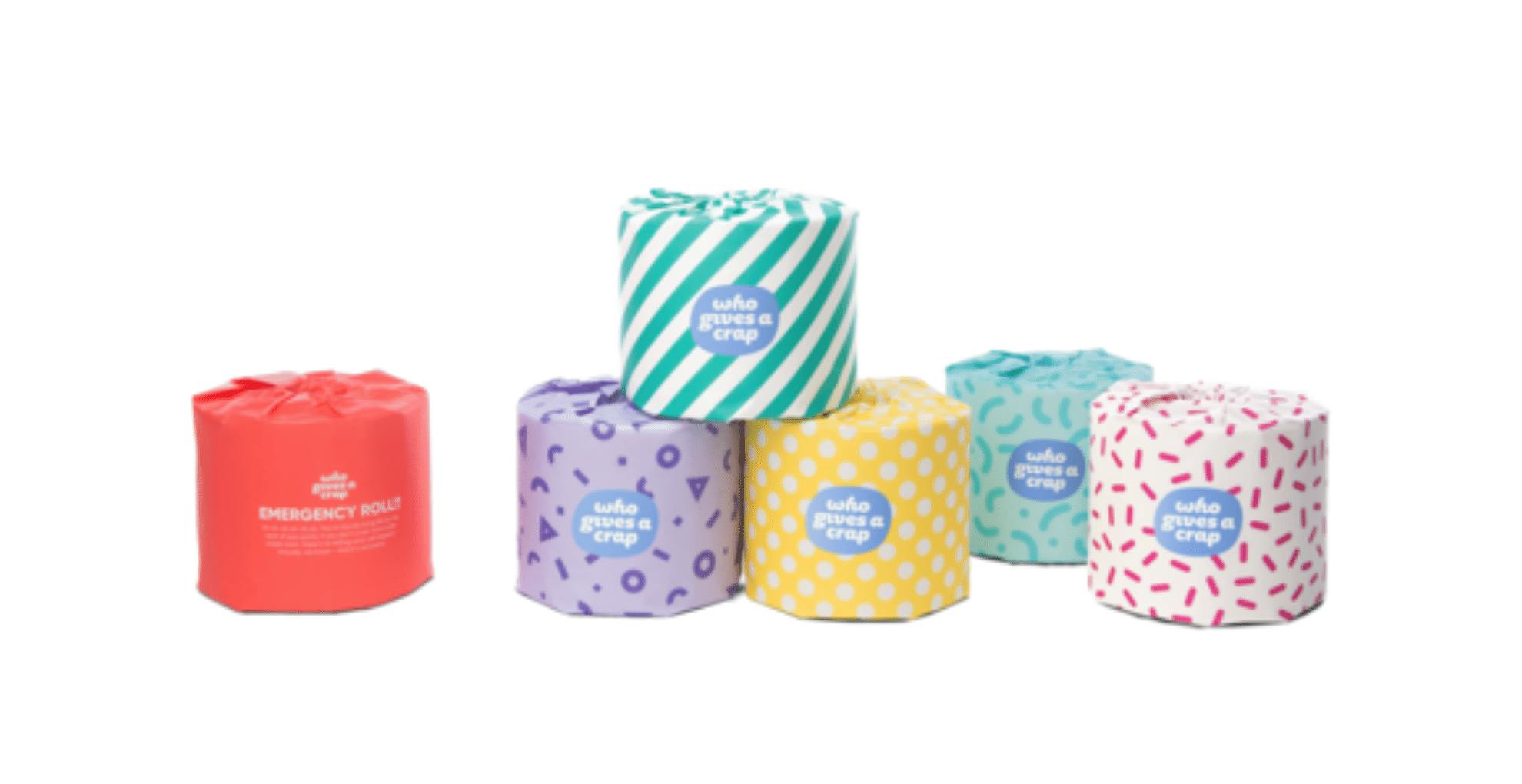 Oh, you cynic.
Toilet paper needs to be wrapped for hygiene and moisture reasons, but for obvious reasons, the company wanted to avoid adding to the mountain of plastic packaging we all live with. And while they could wrap their product in packs of six, the paper would need to be stronger, with the net weight equaling the individual wraps, negating any benefit. Which means that individual wrapping is good environmental and budget sense, and if they look good too? Win - win - win!
All this has resulted in B Corp certification, a third party scheme that is awarded to companies that reach the "highest standards of verified social and environmental performance, public transparency, and legal accountability to balance profit and purpose". Companies that achieve this certification have to take into account not just profit, but their effect on the environment, community and employees with every decision they make.
As we discussed when looking at the Coronavirus Recession, good investments are likely to no longer be judged solely on profit margins, but on a solid business model and resilience during a crisis, making the role of B Corp certification more important than ever.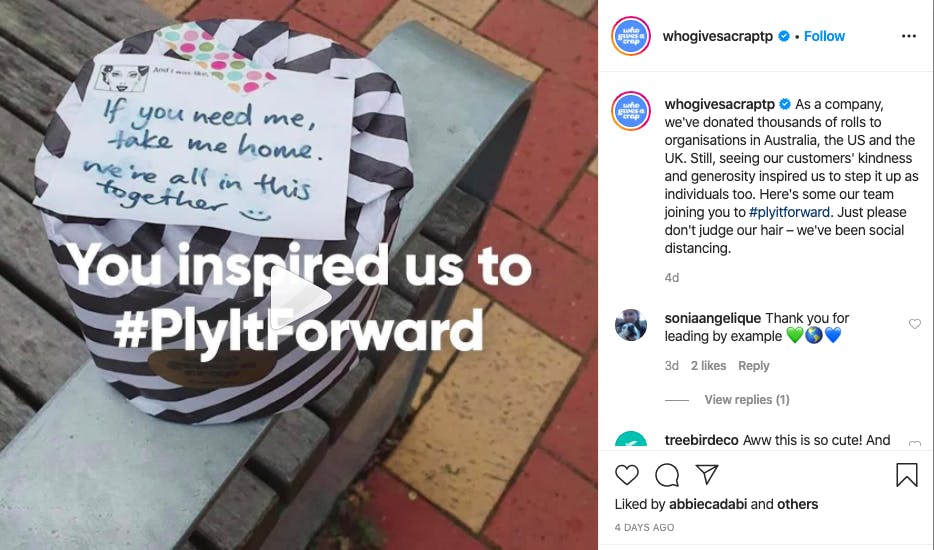 In recent weeks, Who Gives a Crap has seen demand skyrocket to 20 times previous levels. Stock is currently sold out, but even with stock levels depleted, they've still managed to ship toilet paper to emergency relief organisations for distribution to those in need. They're also encouraging customers to donate a roll or two themselves to friends, neighbours and anyone running low on loo roll.
Now that's toilet paper for good.