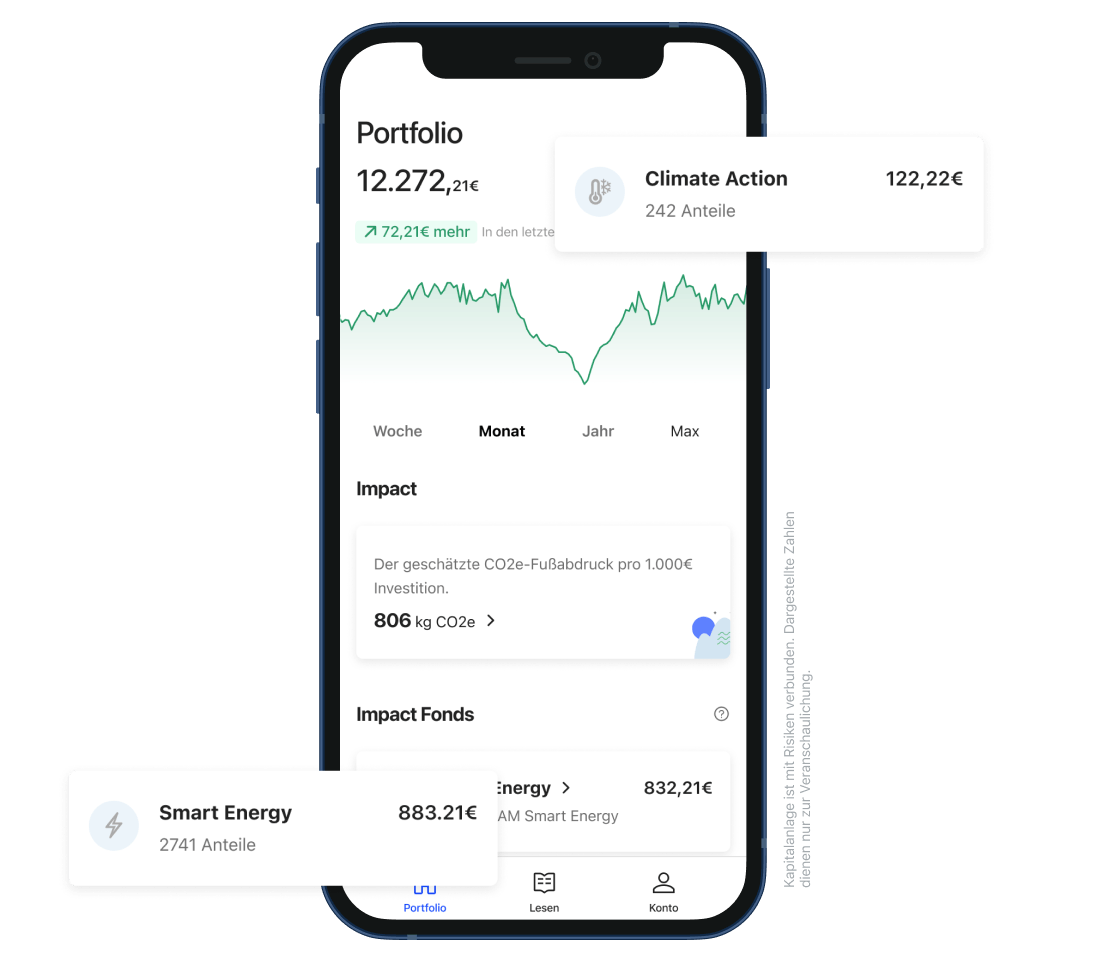 Impact Investing leicht gemacht.
Lerne die App kennen, die dir die richtigen Werkzeuge an die Hand gibt, um Rendite zu erwirtschaften, ohne dabei deine Werte zu vernachlässigen. Gut für deine Finanzen – und für den Planeten.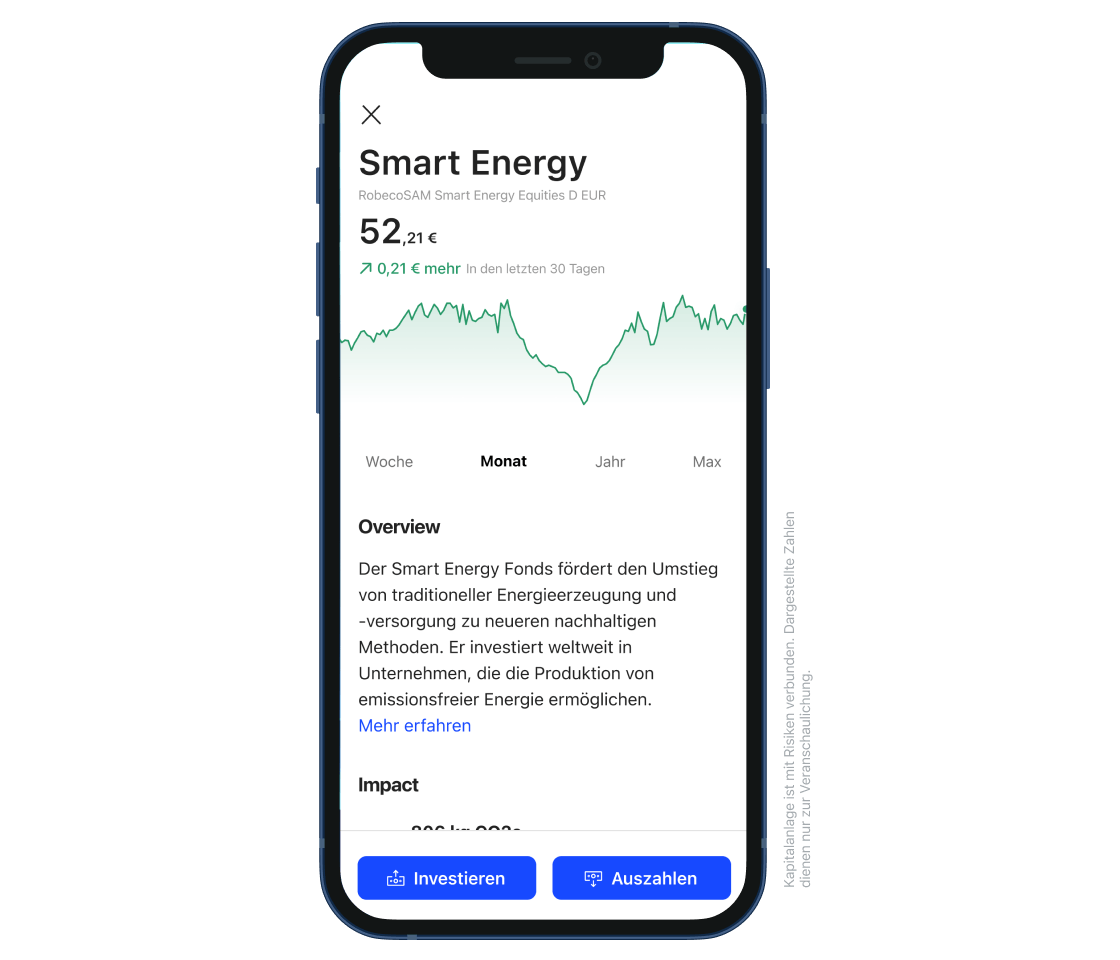 Investitionen im Einklang mit der Umwelt.
Investiere in Smart Energy, Wasser, nachhaltige Mobilität und andere nachhaltige Investmentfonds, um mit deinen Ersparnissen den Klimawandel zu bekämpfen. Lerne was Klima Impact Investing für dich und unseren Planeten tun kann.
Über die Fonds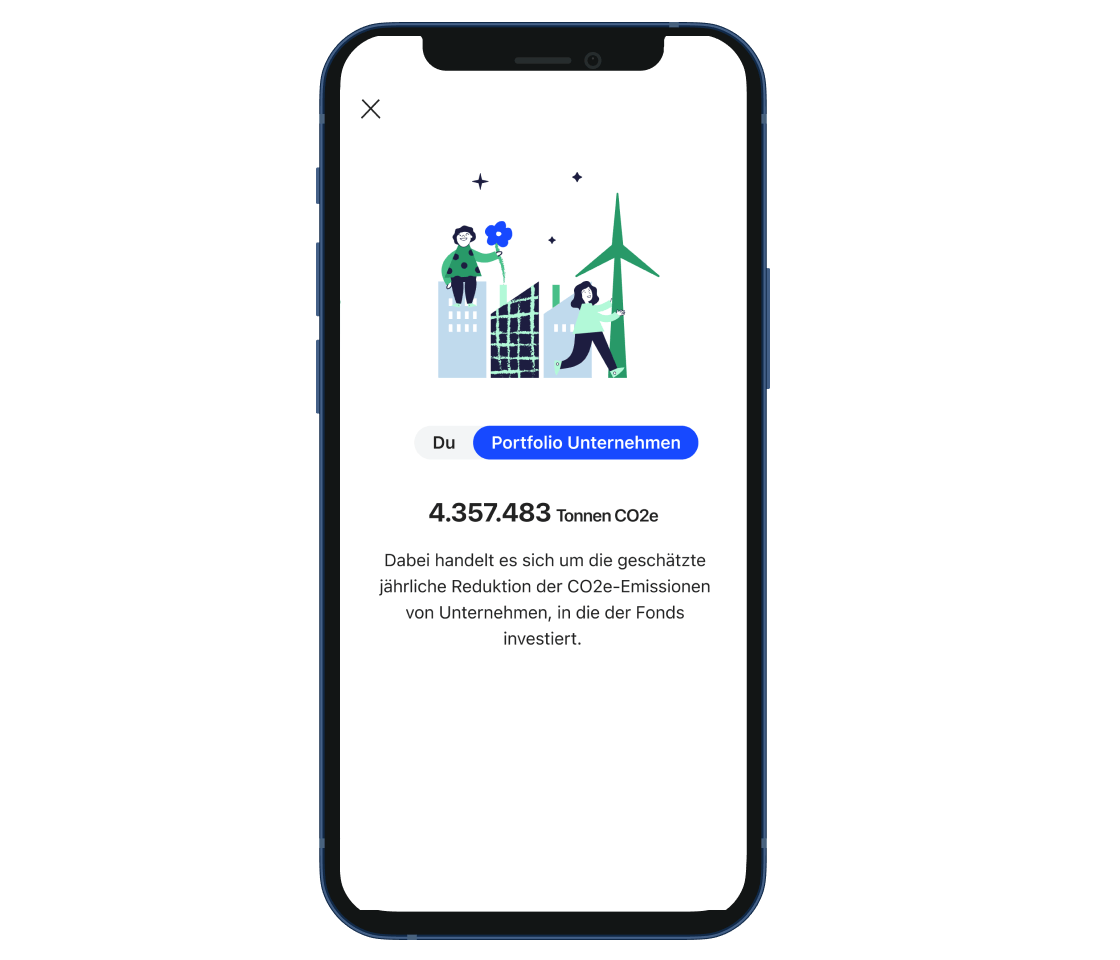 Verfolge sowohl die Rendite als auch die Klima Performance.
Impact Investing sollte sich nicht wie Raketenwissenschaft anfühlen. Cooler Future stellt sicher, dass du den Überblick behältst, sowohl über finanzielle, als auch über klimarelevante Metriken.
Erfahre, wie wir den Impact messen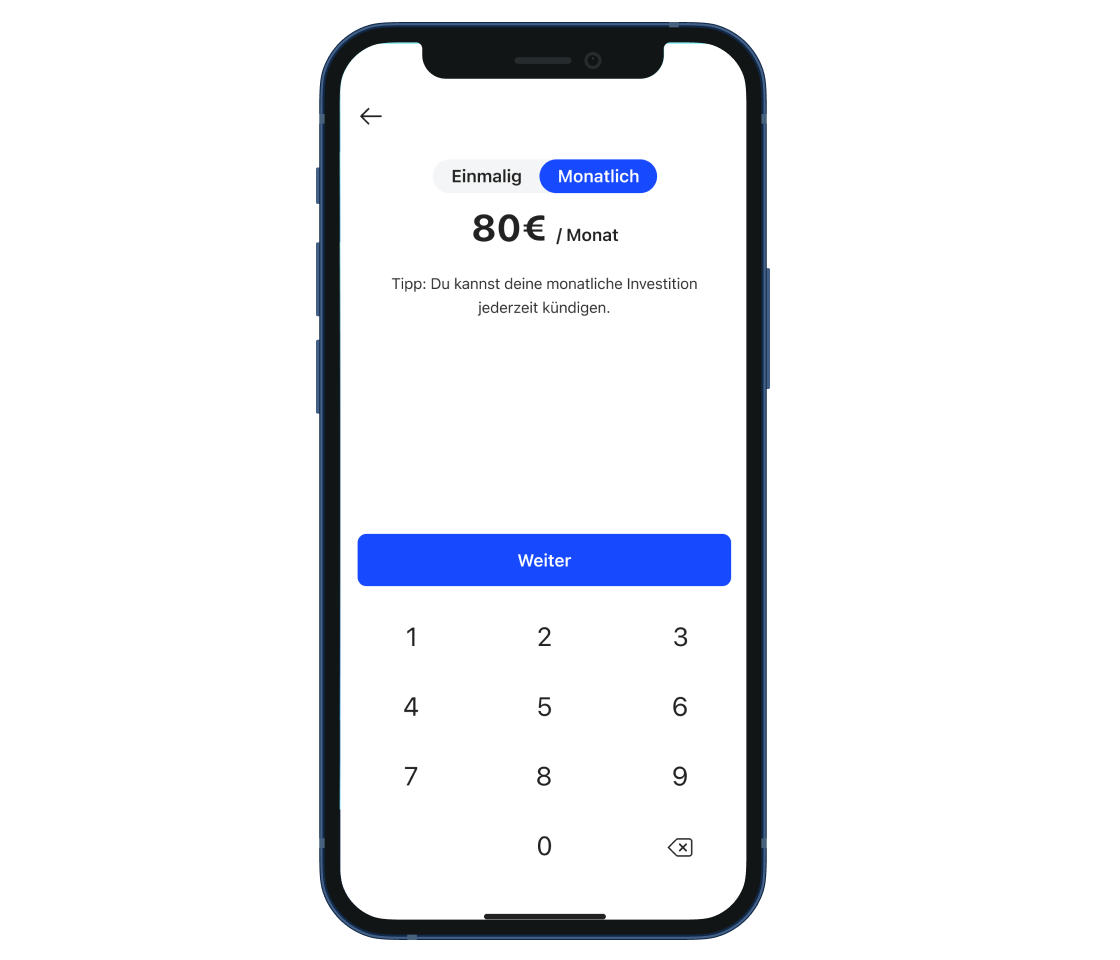 Habe einen langfristigen Plan, um Vermögen aufzubauen.
Du musst nicht reich sein, um ein*e Investor*in zu werden. Über die Cooler Future App beträgt der kleinste Investitionsbetrag nur 20 €. Investiere einmalig oder richte einen monatlichen Investitionsplan ein!
Warum monatliche Investitionen?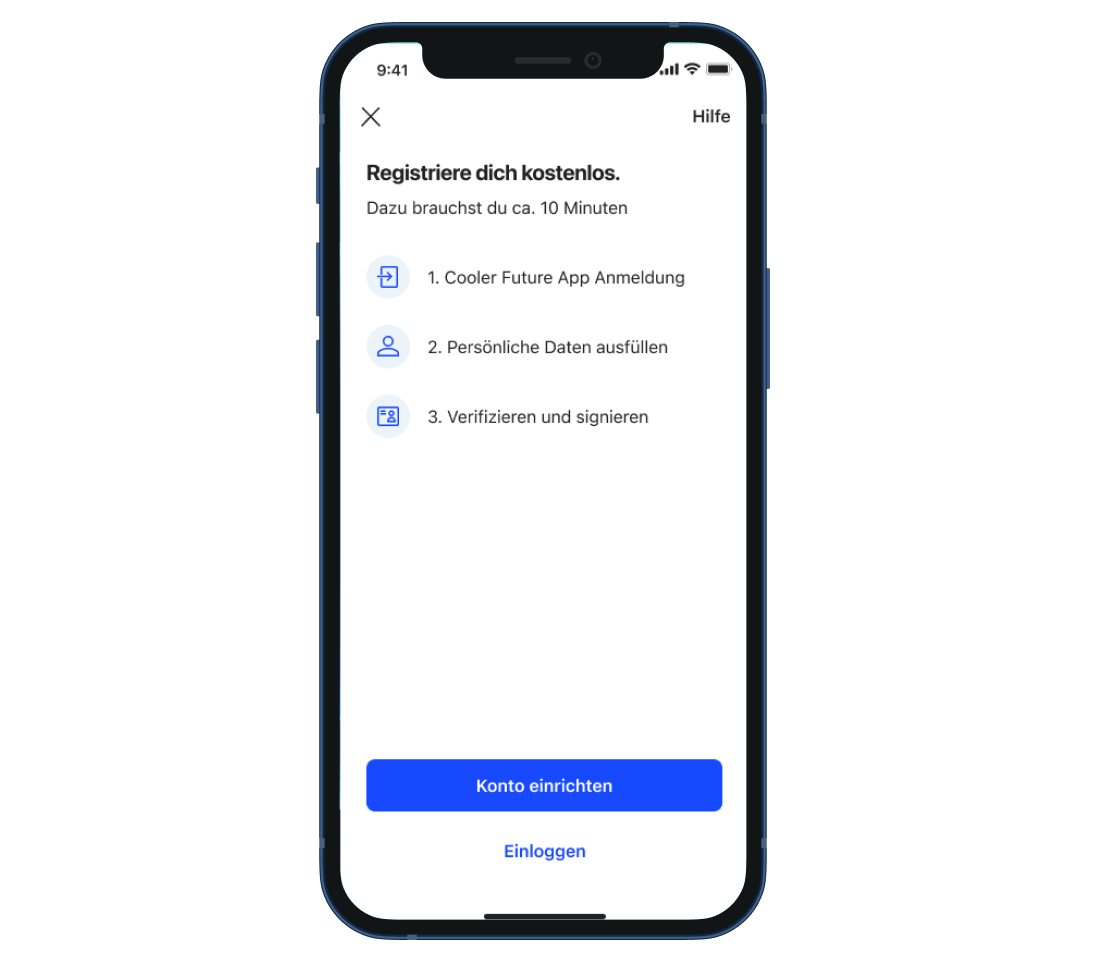 Schnelle, einfache Registrierung. 
Volle Kundenunterstützung.
Kein Depot? Kein Problem! Wenn du noch nie investiert hast, helfen wir dir kostenlos bei der Erstellung eines Anlagekontos. Mit dem zusätzlichen 24/7-Support durch unser Team und einer offenen Community gleichgesinnter Investor*innen hast du alle Werkzeuge, die du brauchst, um ein klima aktivistischer Investor*in zu werden.
Der Community beitreten
Was ist der Unterschied zwischen ESG und Impact Investing?

Es gibt nicht die eine einzige perfekte Lösung für den Klimawandel. Aber mit Impact Investing können wir alle unseren Teil zur Rettung unseres Planeten beitragen. Wie? Indem du dein Geld in Unternehmen investierst, die sich für Umweltschutz engagieren, oder nachhaltige Lösungen für die Zukunft entwickeln, kannst du die Welt bei ihrem Übergang zu einer grünen Wirtschaft unterstützen. Mehr hier erfahren.

Muss ich Gebühren zahlen, wenn ich über die Cooler Future-App investiere?

Um sicherzustellen, dass deine Investitionen mit größtmöglicher Sorgfalt behandelt werden, werden eine Portfoliomanagement- und andere Gebühren erhoben. Die geschätzte Gesamtgebühr beträgt 1,82% deiner Investitionen. Mehr hier erfahren.

Wie lange dauert es, bis mein Geld Cooler Future erreicht?

Es dauert normalerweise 1-5 Werktage, bis dein Geld bei Cooler Future eintrifft.

Warum sollte ich Cooler Future meine Investitionen anvertrauen?

Cooler Future aims to provide returns while creating a positive impact on climate change. There are a few reasons why you can trust us: we have an experienced team; we're transparent about our metrics; we partner up with top companies in the financial industry; and we take data security very seriously. Learn more here.